News - Home
History-making National Champions
Published:
08/05/2019 22:45:00 |
Category:
Football
---
The U16 football team defeated a very good Thomas Telford School full of academy footballers in a pulsating encounter at the Manchester City Academy Stadium to claim the U16 English Schools Football Association Elite Schools Cup for the first time in the school's history.
Carre's took the lead in the 70th minute through a well-executed Haydn penalty, but were denied victory in normal time as Thomas Telford School equalised on the stroke of full time with a penalty of their own.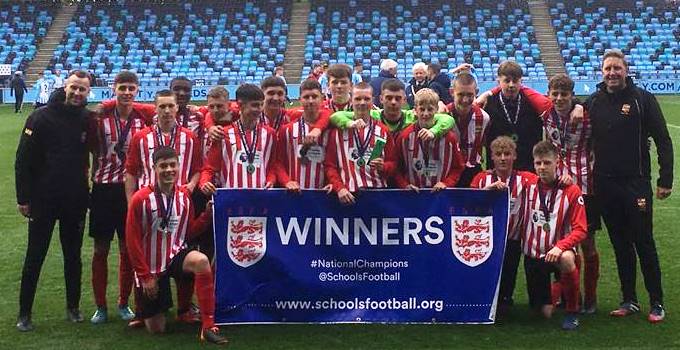 In a tense penalty shoot-out goalkeeper Elliott made two fine reflex saves to take the game to sudden death. Alfie coolly slotted home to spark scenes of wild celebration with the large Carre's travelling contingent of students, staff, family and friends.
A very proud day for the school and all associated with it; well done to everyone involved!
Read More News
Use the form below to filter the available news articles. You are able to filter by 'Article Title', 'Article Body' and 'Category' Once filtered click on a artcle to view it. To reset your filter select 'Reset'
Articles 1 to 20 of 407
Year 13 Examination Timetable February 2020 (Category: Exams, First Published: 06/02/2020)
January edition of the Whole School Newsletter now available (Category: Newsletters, First Published: 13/01/2020)
Extracts from Halloween winning stories (Category: LRC, First Published: 03/12/2019)
Lincolnshire Young Journalist Academy (Category: General, First Published: 20/11/2019)
October edition of the Whole School Newsletter now available (Category: Newsletters, First Published: 06/11/2019)
Y11 Revision Parents Information Evening (Category: Parents, First Published: 22/10/2019)
Year 13 Examination Timetable November 2019 (Category: Exams, First Published: 18/10/2019)
Year 7 Parents Information Evening (Category: Parents, First Published: 19/09/2019)
September edition of the Whole School Newsletter now available (Category: Newsletters, First Published: 09/09/2019)
GCSE Results - 2019 (Category: Exams, First Published: 22/08/2019)
A Levels, BTecs and Ctecs - 2019 (Category: Exams, First Published: 15/08/2019)
Outreach Sports Club - Holiday Sports Coaching (Category: Outreach, First Published: 17/06/2019)
Year 8 Examination Timetable - June 2019 (Category: Exams, First Published: 13/06/2019)
Year 7 Examination Timetable - June 2019 (Category: Exams, First Published: 13/06/2019)
KS5 Exam Timetable - May 2019 (Category: Exams, First Published: 21/05/2019)
KS4 Exam Timetable - May 2019 (Category: Exams, First Published: 13/05/2019)
History-making National Champions (Category: Football, First Published: 08/05/2019)
Year 12 Examination Timetable 2019 (Category: Exams, First Published: 29/04/2019)
April edition of the Whole School Newsletter now available (Category: Newsletters, First Published: 29/04/2019)
Well-Being Award for Schools Achieved (Category: Well-Being, First Published: 29/04/2019)