News - Home
BBC News Report
Published:
17/03/2017 12:33:00 |
Category:
General
---
On Thursday, 16th March, BBC School Report Day, a group of students from year 7 were lucky enough to be given the chance to co– host the 'Melvyn in the Morning show from the English Department. It was a fantastic opportunity and one that was thoroughly enjoyed.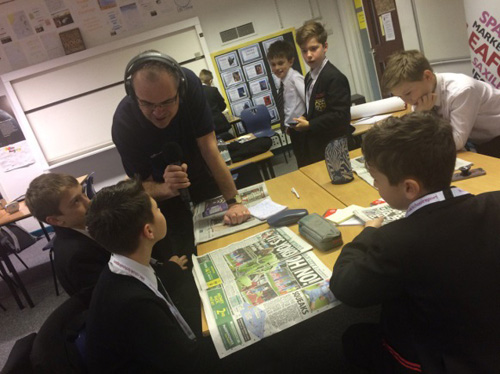 In the weeks preceding News Day the boys had been working hard preparing stories for the show and some students had even pre-recorded some material for Melvyn to use. Therefore, all the young journalists were prepped and ready once News Day arrived.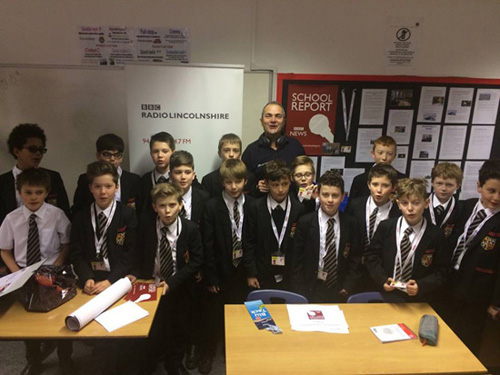 The day started early with Melvyn and his team arriving to set up all their equipment. They boys were then briefed on their responsibilities for the day. There was a real buzz of excitement in the air when the boys went live on the radio at 9am!
The three hour show passed in a whir of activity with all the boys having the chance to appear live on the radio. Students interviewed: Sophie Anderton, a sixth form student and Miss Newark contestant; Paul Sall, Director of Scampton Air Show and Miss James. Finally they hot –seated Mr Law and Mr Holland, asking a mixture of serious and light hearted questions. The boys were amused to discover that Mr Law's favourite food was wine gums and that Mr Holland may have been less than perfectly behaved when he was a student at Carre's Grammar School!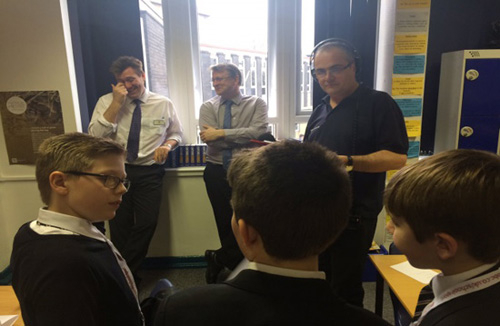 The morning ended with the students presenting a bulletin of the stories they had been working on and this was also streamed live on the BBC Radio Lincolnshire Facebook stream.
It was a fantastic morning and the boys loved having the chance to take control of the air waves. It was a pleasure to work with Melvyn, Martin and Andy from Radio Lincolnshire and everyone involved learnt a great deal about the making and broadcasting of radio programmes.
Read More News
Use the form below to filter the available news articles. You are able to filter by 'Article Title', 'Article Body' and 'Category' Once filtered click on a artcle to view it. To reset your filter select 'Reset'
Articles 1 to 20 of 376
The Great bake it! Bake Off (Category: Whats On, First Published: 21/06/2018)
Year 8 Examination Timetable - June 2018 (Category: Exams, First Published: 12/06/2018)
Year 7 Examination Timetable - June 2018 (Category: Exams, First Published: 12/06/2018)
June edition of the Whole School Newsletter now available (Category: Newsletters, First Published: 12/06/2018)
Carre's Grammar School Basketball Season Summary (Category: Basketball, First Published: 05/06/2018)
Outreach Sports Club - Holiday Sports Coaching (Category: Outreach, First Published: 04/06/2018)
April edition of the Whole School Newsletter now available (Category: Newsletters, First Published: 19/04/2018)
Year 12 Examination Timetable 2018 (Category: Exams, First Published: 29/03/2018)
Year 10 Examinations – April 2018 (Category: Exams, First Published: 21/03/2018)
Year 9 Examination Timetable – March 2018 (Category: Exams, First Published: 09/03/2018)
KS5 Exam Timetable - May 2018 (Category: Exams, First Published: 06/03/2018)
KS4 Exam Timetable - May 2018 (Category: Exams, First Published: 06/03/2018)
SGA KS5 Exam Timetable - May 2018 (Category: Exams, First Published: 06/03/2018)
KSHS KS5 Exam Timetable - May 2018 (Category: Exams, First Published: 06/03/2018)
U16 Basketball Competitive Fixtures (Category: Basketball, First Published: 26/02/2018)
February edition of the Whole School Newsletter now available (Category: Newsletters, First Published: 23/02/2018)
Year 13 Mock Examination Timetable 2018 (Category: Exams, First Published: 22/01/2018)
January edition of the Whole School Newsletter now available (Category: Newsletters, First Published: 12/01/2018)
U16 Basketball Competitive Fixtures (Category: Basketball, First Published: 21/12/2017)
U14 Basketball Competitive Fixtures (Category: Basketball, First Published: 21/12/2017)