News - Home
Hopkins Crowned National Champion
Published:
2015-07-21 12:27:00 |
Category:
Sport
---
On Monday 20 July, Carre's Grammar School student William Hopkins became the National Schools' U16 Golf Champion, winning the 36-hole event at Kirby Muxloe with rounds of 68 and 73 for a total of 141. Impressively, William's winning margin over a very strong field was an enormous 5 shots and he became the first student in Carre's long history to be National Champion at any sport!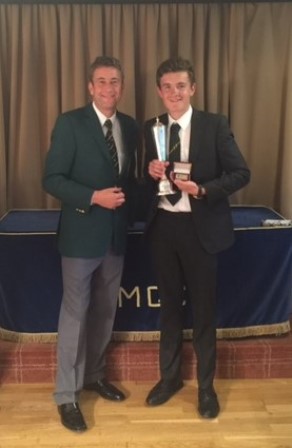 William has consequently been selected to represent England Schools against Wales at Sherwood Forest Golf Club on 24 August, in addition to his already being selected to play against Scotland in Kilmarnock this September.
William, 15 years old and a member of Sleaford Golf Club, is one of three boys from Carre's who had earlier in the year competed at the National Schools' Golf Championships at Peterborough Milton Golf Club on 22 June. The boys represented the North of England Schools, having qualified through the Regional Championships. Ryan Trow, a 6 handicap, Jake Craddock (3) and Hopkins performed admirably in tough weather conditions, particularly in their first rounds. With everything to play for in the afternoon, Hopkins fired a very impressive round of 74 to finish in 8th position, earning his selection for the national team.
William will be the second student in two years from Carre's to gain this accolade, following Oliver Harrod's appearance in the international match in 2014. With a national champion, five of their students in the county team, three regional representatives and now two schoolboy internationals over the last two years, Carre's is developing a reputation as the place to be for young, aspiring golfers in Lincolnshire.
Read More News
Use the form below to filter the available news articles. You are able to filter by 'Article Title', 'Article Body' and 'Category' Once filtered click on a artcle to view it. To reset your filter select 'Reset'
Articles 1 to 17 of 17
Lincolnshire Young Disabled Sportsperson of the Year Nominee (Category: Sport, First Published: 13/11/2017)
Student Represents Great Britain at the World Triathlon Championships in Chicago. (Category: Sport, First Published: 12/10/2015)
Hopkins Crowned National Champion (Category: Sport, First Published: 21/07/2015)
Troop Marches On! (Category: Sport, First Published: 03/07/2015)
Student Collects Bronze Medal in Angling Trust National Event (Category: Sport, First Published: 30/06/2015)
Sports and Alternative Games Day - Friday 22 May 2015 (Category: Sport, First Published: 19/05/2015)
Student Plays Golf for England against Scotland (Category: Sport, First Published: 16/09/2014)
Student selected to play for the England Schools Golf team (Category: Sport, First Published: 03/07/2014)
Archery Update - Chris Brown - 16 July 2013 (Category: Sport, First Published: 17/07/2013)
Schools Golf Championship Victory (Category: Sport, First Published: 13/05/2013)
Olympic target for Chris (Category: Sport, First Published: 23/04/2013)
Primary School Sport Outreach (Category: Sport, First Published: 12/03/2012)
Olympic countdown at Carre's (Category: Sport, First Published: 28/03/2011)
Boston Fixtures Postponed (Category: Sport, First Published: 09/12/2010)
U13 School County Tennis Finals (Category: Sport, First Published: 13/09/2010)
World Cup success (Category: Sport, First Published: 23/06/2010)
Carre's Year 7's Compete in Regional 5-a-side Football Championships (Category: Sport, First Published: 07/02/2010)