Students
Remote Access - How to use Foldr
Remote Access - How to use Foldr
Logging into Foldr
Select Students > Remote Access from the main menu
Login using your normal school username and password (see below):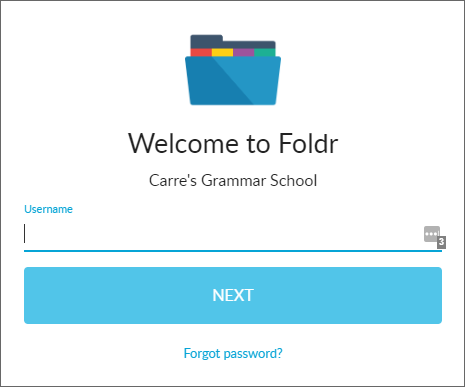 You will then have access to the following:
My Home Folder (for personal files)
Pupil Work Drive (for resources/worksheets)
Submit Drive (to submit work to a teacher)
Microsoft Office 365
Before you can use the Pupil Work Drive or Personal OneDrive you will need to link your Microsoft Office 356 account to Foldr.
Link Account
In the example below we will link to Microsoft Office 365 as we access Personal OneDrive for the first time. The process is exactly the same if you are accessing the Pupil Work Drive for the first time.
NB: The following process must be carried out on a web browser and not on a mobile application
Login to Foldr
Select Personal OneDrive from the My Files Menu (see below)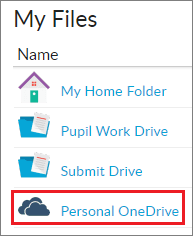 On the Link Account dialogue box select Yes Continue (see below)

At the Sign in page enter username@robertcarretrust.uk, where username is what you use to login to a school computer, and select Next (see below)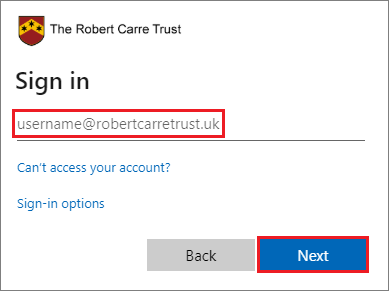 At the Enter password page enter your Password and select Sign in
At the Stay signed in? page select No if you're using a shared device with no individual login account or Yes if it is your own device or you have an individual login account

NB: You will now be able to access your Microsoft OneDrive within Foldr
Checking Your Account is Linked
You can check your account is linked as follows:
Select Me from the left menu
Select the Services tab
Check that Microsoft/Office 365 has a tick next to it
Double click on Microsoft/Office 365 to see what account is linked

NB: From here you can Unlink Account if appropriate, select Yes, Continue to confirm
Finding your way around
Select either the Pupil Work Drive or My Home Folder
Browse through the folder structure by single clicking
To go back up a level select the folder name from the path at the top
e.g. select the Departments folder to leave the Art folder and view all Departments in the example below: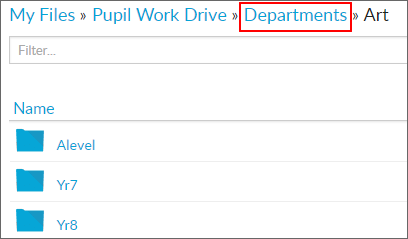 Opening or Downloading files
Once you have found the file you are looking for you can either:
Open a copy of the file to read
Download a copy of the file to your device
By clicking on the … to the right of the file
e.g. select Open in the image below: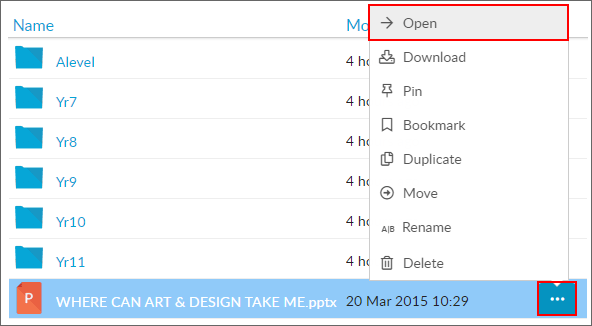 Uploading files
Go to the drive (My Home Drive or Submit Drive) and the folder you wish to upload to
Click on the + sign in the top-right corner and select Upload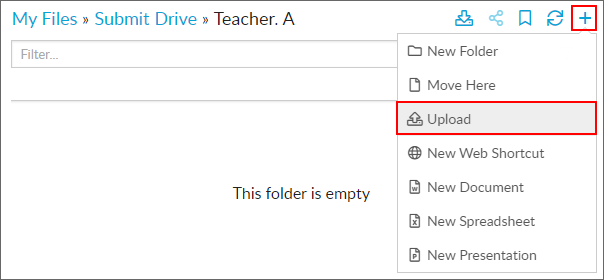 Find the file on your local device, select it and click Open to upload
e.g. Select My Art Work.png from the Art Work folder in your Documents folder and select Open in the example below: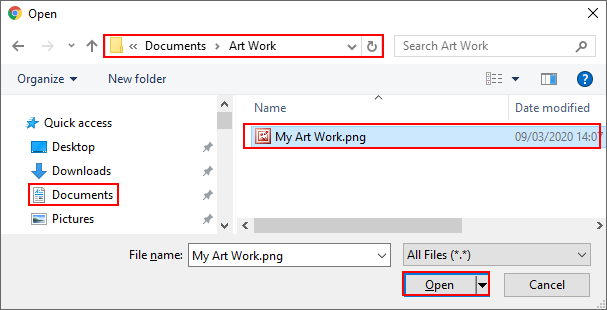 NB: If uploading to the Submit Drive make sure the file goes into the correct teacher's folder and has a suitable filename that identifies you
Signing Out
Always make sure you sign out when you're finished, especially if you are using a shared computer.
Select your Account Name at the top-right of the screen
Select Sign Out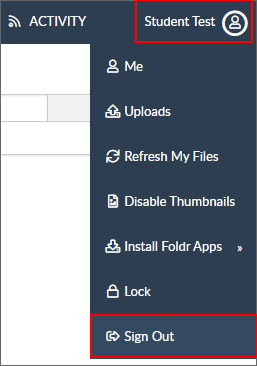 Using Foldr on a Mobile Device
If you have an Apple iOS or Google Android device you can install the app by searching for Foldr in Apple App Store or Google Play Store and logging in as follows:
Select Add Account
Enter files.carres.uk as the Foldr address and select Continue
Enter your school computer network Username and select Next
Enter your school computer network Password and select Sign In
Select My Files to browse My Home Folder, Pupil Work Drive and Submit Drive
Upload OneDrive Files to the Submit Drive
You can use Foldr to upload files you have saved to your OneDrive folder when using Microsoft Office 365 applications.
NB: The process below is carried out using a web browser but similar functionality is also available using the mobile app.
Open Personal OneDrive and browse to where your file is saved
Hover over the file you wish to upload and click on the 3 dot '...' menu, then select Duplicate (see below)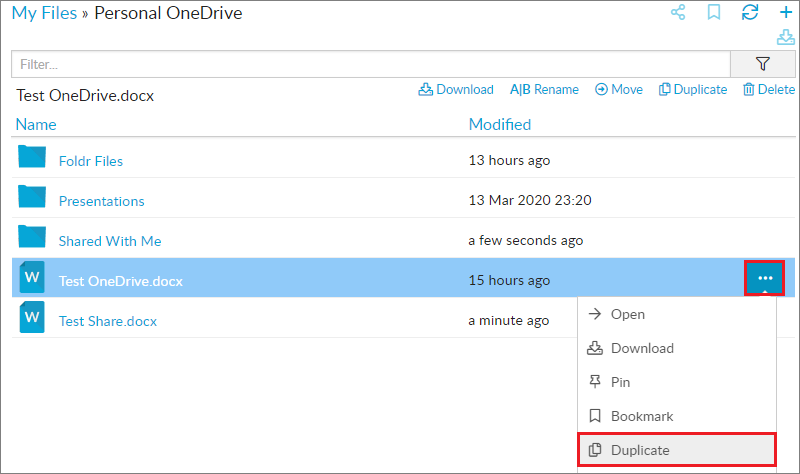 Select Duplicate in another folder
On the Duplicate in... page browse to the relevant folder within the Submit Drive and select Select (see below)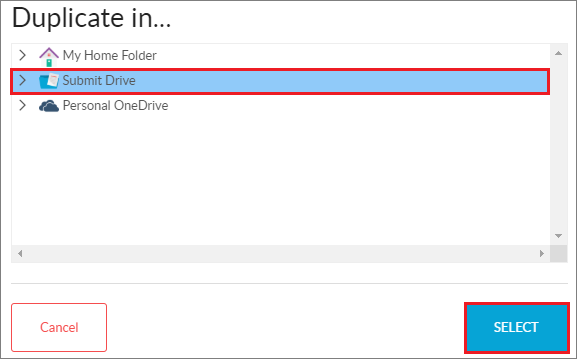 You will briefly receive a Success message to show your file has been uploaded successfully
Create, Open or Edit Files in Microsoft Office 365
You can create, open or edit Microsoft Word, Excel and PowerPoint documents directly from Foldr using your Personal OneDrive.
NB: The process below is carried out using a web browser but similar functionality is also available using the mobile app.
Create a New Document
Open Personal OneDrive, select the + Add Files menu to the top right of the screen and select New Document, New Spreadsheet or New Presentation as required (see below)
On the New Document page give the file a Name and select Create
Open or Edit a File
Open Personal OneDrive, select the document, spreadsheet or presentation you want to open or edit and select Edit with Microsoft Office 365

NB: This will open the file in Microsoft Office 365 where you can view or edit as required. Once you have finished editing your file check that it says Saved rather than Saving (see below) and simply close the web browser tab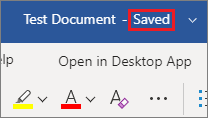 NB: Your file will now be saved to OneDrive and accessible in all Microsoft Office 365 apps and through Foldr
Related News